Goodbye!
PA is officially closed
. But all the posts and memories will still be here! Feel free to leave a message on the chatbox, and make sure to check out the
discord
as well!
Welcome to Potter's Army
WELCOME BACK, ALUMNI! Potter's Army is a roleplaying site that's been up and running since 2007. We have just revamped the site for an AU version of our previous PA adventures, with our old writing buddies.
The current IC year 2022.
Page 1 of 2 • 1, 2
Angelique Claire Delacroix (nee Laurent)
______________________________________________________________________________________
------------------------------------------------------------
INTRODUCTION
------------------------------------------------------------
NICKNAMES/ALIAS:
 Angie (mostly used by her husband and parents)
Lina Laurent (used among DE)
AGE:
45
ALLEGIANCE:
double agent (more in history)
Binoche family
Laurent family
Delacroix family
HOGWARTS HOUSE:
Beauxbatons graduate
WAND:
rosewood, veela's hair, 12", rigid
PLAY BY:
Goca Tržan
------------------------------------------------------------
APPEARANCE
------------------------------------------------------------
GENERAL APPEARANCE: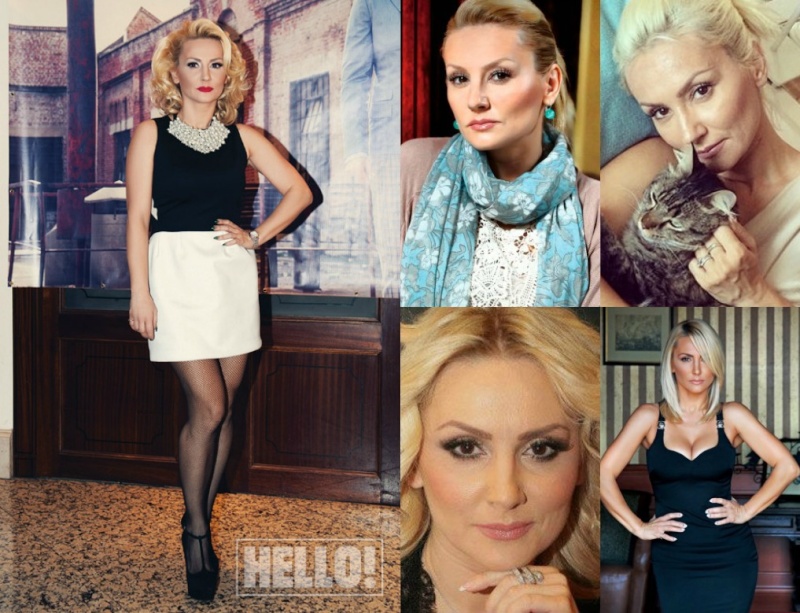 Angelique is a person for whom when you see her for the first time you'll understand that she's veela. Of course, at least those who know the wizarding world.
The bright blond hair, light complexion, even after 45 years Angelique is a really beautiful.
She is very tall and thin, a lot of time she spend caring about her look. Even after she gave birth to Alessia, she was all the time in gym cause she wanted to be thin as before, and she succeeded. Almost always she is dressed formal, it is unlikely that you will be able to see her in casual clothes, and often she seems cold and inaccessible. The only warm thing at Angelique are probably her brown eyes that she inherited from her father.
However, even the strictest people have their little secrets, a sign of rebellion. Angelique has a lot of tattoos, however, it is impossible to see them because they are hidden under her clothes.
Her mother taught her that the appearance is the most important thing on woman, it's what people see in the world and that only the ones that look nice will be someone important. Therefore, even when it is her worst day, this woman will put on her best dress, will put lipstick and then, will be as beautiful as ever. Her natural hair color is blue, she has never tried to change it even if some people told her she would be nice with brown hair color too.
Harry Potter Wiki wrote:Some wizards seems more immune to this than most others, though the first time exposure would have a stringer effect. Men who are exposed to it over a period of time become more resistant to it, although the Veela charm takes full effect if the Veela surprises the man. it is unknown whether men with Veela heritage like Louis Weasley would also have this ability. Veela are always, and under any circumstances, physically perfect, graceful and flawless, without anything that would make them look unattractive or distract from their presence. They are perfectly aware how to increase their appeal by apparel, action or choice of words, but even these are simply details to enhance their natural appeal.

Veela also had the ability to transform into harpy-like creatures and to throw fireballs when angried.
------------------------------------------------------------
PERSONALITY
------------------------------------------------------------
TRAITS:
livescience - Personality Traits wrote:Openness - Openness is shorthand for "openness to experience." People who are high in openness enjoy adventure. They're curious and appreciate art, imagination and new things. The motto of the open individual might be "Variety is the spice of life."

Conscientiousness - People who are conscientious are organized and have a strong sense of duty. They're dependable, disciplined and achievement-focused. You won't find conscientious types jetting off on round-the-world journeys with only a backpack; they're planners.

Disagreeableness - Agreeableness measures the extent of a person's warmth and kindness. The more agreeable someone is, the more likely they are to be trusting, helpful and compassionate. Disagreeable people are cold and suspicious of others, and they're less likely to cooperate.

other traits:
smart
manipulative
arrogant
loyal only to her family
perfectionist
worries about everything too much
LIKES & DISLIKES:
(+)
coffee
books
rain
running
her family
tea
apple juice
pizza
(-)
cigarettes
alcohol
dogs, or animals at all
lazy people
dark
peas
GOAL:
 she doesn't have them anymore. she thinks her life is perfect, she is good wife, has good daughter and grandson, her only goal is to see her daughter happy again
ENTJ PERSONALITY ("THE COMMANDER")

Your time is limited, so don't waste it living someone else's life. Don't be trapped by dogma — which is living with the results of other people's thinking. Don't let the noise of others' opinions drown out your own inner voice. And most important, have the courage to follow your heart and intuition. They somehow already know what you truly want to become. Everything else is secondary.

-Steve Jobs

ENTJs are natural-born leaders. People with this personality type embody the gifts of charisma and confidence, and project authority in a way that draws crowds together behind a common goal. But unlike their Feeling (F) counterpart, ENTJs are characterized by an often ruthless level of rationality, using their drive, determination and sharp minds to achieve whatever end they've set for themselves. Perhaps it is best that they make up only three percent of the population, lest they overwhelm the more timid and sensitive personality types that make up much of the rest of the world – but we have ENTJs to thank for many of the businesses and institutions we take for granted every day.

If there's anything ENTJs love, it's a good challenge, big or small, and they firmly believe that given enough time and resources, they can achieve any goal. This quality makes people with the ENTJ personality type brilliant entrepreneurs, and their ability to think strategically and hold a long-term focus while executing each step of their plans with determination and precision makes them powerful business leaders. This determination is often a self-fulfilling prophecy, as ENTJs push their goals through with sheer willpower where others might give up and move on, and their Extroverted (E) nature means they are likely to push everyone else right along with them, achieving spectacular results in the process.

At the negotiating table, be it in a corporate environment or buying a car, ENTJs are dominant, relentless, and unforgiving. This isn't because they are coldhearted or vicious per se – it's more that ENTJ personalities genuinely enjoy the challenge, the battle of wits, the repartee that comes from this environment, and if the other side can't keep up, that's no reason for ENTJs to fold on their own core tenet of ultimate victory.

If there's anyone ENTJs respect, it's someone who is able to stand up to them intellectually, who is able to act with a precision and quality equal to their own. ENTJ personalities have a particular skill in recognizing the talents of others, and this helps in both their team-building efforts (since no one, no matter how brilliant, can do everything alone), and to keep ENTJs from displaying too much arrogance and condescension. However, they also have a particular skill in calling out others' failures with a chilling degree of insensitivity, and this is where ENTJs really start to run into trouble.

Emotional expression isn't the strong suit of any Analyst (NT) type, but because of their Extroverted (E) nature, ENTJs' distance from their emotions is especially public, and felt directly by a much broader swath of people. Especially in a professional environment, ENTJs will simply crush the sensitivities of those they view as inefficient, incompetent or lazy. To people with the ENTJ personality type, emotional displays are displays of weakness, and it's easy to make enemies with this approach – ENTJs will do well to remember that they absolutely depend on having a functioning team, not just to achieve their goals, but for their validation and feedback as well, something ENTJs are, curiously, very sensitive to.

ENTJs are true powerhouses, and they cultivate an image of being larger than life – and often enough they are. They need to remember though, that their stature comes not just from their own actions, but from the actions of the team that props them up, and that it's important to recognize the contributions, talents and needs, especially from an emotional perspective, of their support network. Even if they have to adopt a "fake it 'til you make it" mentality, if ENTJs are able to combine an emotionally healthy focus alongside their many strengths, they will be rewarded with deep, satisfying relationships and all the challenging victories they can handle.
personality types
------------------------------------------------------------
FAMILY & POSSESSIONS
------------------------------------------------------------
FATHER:
Adrian Laurent - halfblood, veela, 75, dead
MOTHER:
Blaire Catherine Laurent (nee Binoche) - halfblood, veela, 70, alive
SIBLING/S:
/
OTHER:
Eduard Delacroix - husband, halfblood, wizard, 46, alive
Alessia Ivaskova (nee Delacroix) - daughter, halfblood, 1/2 veela, 25, alive
Nikolai Ivashkov - son in law, halfblood, wizard, 25, disappeared
Lucas Ivashkov - grandson, halfblood, 1/3 veela, 2, alive
SPECIES/BLOODTYPE:
If veela/halfblood
SOCIAL STATUS:
Wealthy Class
------------------------------------------------------------
CHARACTER HISTORY
------------------------------------------------------------
EARLY YEARS:
Angelique is the only daughter of Adrian and Blair Laurent, born in Paris, France.
From early childhood, Angelique was special, and not just because she is veela. That was something expected cause her mother is Delacour, and they have veela's blood. She was always organized, sometimes even too serious for a little girl. She always properly cleaned her toys, she loved to draw and later to read and prefer spending her days in a room with a book more than out with friends. When she was only 4 years old, she met Eduard, the son of family friends. They grew up together and for many years were best friends.
BEAUXBATONS YEARS:
Angelique received a letter from the best French school for witches and wizards, and her parents were very excited because her mother went to the same school.
However, Angelique was sad because Eduard started a year earlier at Hogwarts, and she was afraid that their friendship will be destroyed now when they are not in the same school, even in the same country. However, their friendship has survived, and Angelique was very happy at school. She was one of the best students in her class and had a lot of friends and later lovers.
ADULTHOOD:
After finishing school, Angelique was soon hired as an auror.
But it is not only important, she had become a double agent. To who she is loyal, to the death eaters or order? She probably does not even know the answer, she is always completely loyal only to herself, as long as she can make something good for herself, she'll be committed to it, even if it means working as a double agent. But all of that finished when she was 40 years old. She think she is now too old for that, and think her daughter will continue what she started. In the years after graduation, her friendship with Eduard broke up, but only because they fell in love. When she was 20, they found out she was pregnant. She and Eduard decided to get married because her parents were very strict, they would not submit a shame that their daughter has a child out of wedlock.
Beautiful big wedding, white wedding dress, family and friends celebrate, the day was perfect.
As life thereafter.
Angelique was initially skeptical, she thought she was too young for marriage, although she loved her husband, but it turned out that this wedding is one of the best decisions she ever made.
Her husband has always been her support, friend and lover, and later a great father to their little princess. Shortly after the wedding, a beautiful little girl was born, Alessia. Although at the time it became obvious that Angelique was pregnant before marriage, now it did not matter to anyone. Her parents loved Eduard, accepted him as their son and really felt that he was the best choice for their only daughter.
Alessia has become the center of Angelique's life. She was the perfect little girl, almost identical to her mother. Angelique was raising her daughter in the same way that her parents raised her, so it is completely understandable why Alessia become similar to her mother later, although she inherited the best qualities of her father.
Angelique was very sad when her daughter said she will marry Russian and move to Moscow, but was also happy because her daughter was happy with him as Angelique with her husband. However, when she found out that Nikolai disappeared she became completely devoted to daughter and persuaded Eduard to move to London to be closer Alessia who is seeking her husband. Also, she wanted to be closer to her grandson.
------------------------------------------------------------
OUT OF CHARACTER
------------------------------------------------------------
ALSO KNOWN AS:
Adna
RP EXPERIENCE:
enough
HOW YOU FOUND US:
already here
MAIN CHARACTER:
Miriam Greyback Levine
Last edited by Angelique Delacroix on Sun Mar 06, 2016 5:36 pm; edited 4 times in total

Angelique Delacroix




Number of posts

: 13



Adna, you've got a good start on her, but i have some issues with her.

First, there is no Blaire Delacour either in canon or on our canon list. Please change her mother to someone else, someone noncanon and take out allegiences to Delacour family, etc.

Second, be very careful about creating a lot of double agents and powerful characters. You have Miriam, who is acting like a double agent, and you have Alessia who is also a double agent. Not sure we need a third. Besides, a double agent that's a full veela strikes me as being really overpowered. I need you to dial her down some.

And, I appreciate that you wanted to clarify the definitions of her personality trait, but you do need to set that off in quotes and give credit from the website you copied that from. If you don't do that, it is considered plagiarism, and that's a big no-no here. I really can't let you do that.

Khaat Lupin

Gryffindor Graduate





Number of posts

: 19044


Special Abilities :

Energy Worker, Medium, Heightened Sensitivity


Occupation

: Director of St. Mungos, Owner of Sparks Bistro



I don't want her to have anything with our Delacour from books. Just use that last name, cause it's not unusual for more families to have same surname, but I can change that

about second one, she is old already and doesn't do anything in order or de, and won't in future, I just wanter her to be like Alessia which was fore me like explanation, but again, she isn't one anymore so I can completly delete that or in history add she was double agent but feels she is tooold for that anymore

for third, it's okay, I can do that. 
If you have anything else please tell me so I'll change all immediately cause it's easier for me than editing app few times.



and about Miriam, she is just a girl who is DE and workd as auror, she has nothing with order and never will

I knew it will be some questions about Angelique cause even me have a lot of issues with her so I post her app copletly so admins can help me with problems

Aneta Markova




Number of posts

: 257


Occupation

: Head of the Auror Office



thanks for being willing to edit. my point about miriam is that you've specified that she's an auror who actually doesn't like her job, but that does imply that she has to at least pretend to have some allegiance with the ministry. but you've also said she has that job to get information for the death eaters. that, to me, says she's basically a double agent. that's my point.
and, i'm glad you're willing to stick things out there and willing to let us help you develop things. thats how we all learn. i can't tell you how grateful i am to other players and the staff that was here before me who taught me so much about rp, both in apps and in developing my posting abilities. part of the reason i'm an admin is because i really do want to help other people in the same way i got help. i just want to be able to give back and pass some of that stuff on.

Khaat Lupin

Gryffindor Graduate





Number of posts

: 19044


Special Abilities :

Energy Worker, Medium, Heightened Sensitivity


Occupation

: Director of St. Mungos, Owner of Sparks Bistro



I undersatnd, but Miriam will finish with that as soon as she get her family back and I'm workind on that

so, what's about angie? do you want me to put this about angie in history? cause it's all about Alessia, I wanted that "daughter is like a mother" if you understand me lol

and btw, thank you for helping, it means a lot to me, especially now

Aneta Markova




Number of posts

: 257


Occupation

: Head of the Auror Office



okay now just need you to say me about surname do you want me to change it, probably delacour from book will be her distant cousins but she have nothing with them, and her mother isn't open for characters

Angelique Delacroix




Number of posts

: 13



you're going to have difficulties with miriam if you're planning on reversing the obliviate b/c its not something done except by a very powerful wizard or spell. Its not a common place thing. Most probably that here on PA the only one capable of such advanced magic is going to be a character with advanced healing skills, like Robert. Its not a spell that enables people to just randomly regain their memory. But, if you have her family liking Miriam for Miriam's sake, then that might be more workable.

If you want Alessia to follow in her mother's footsteps, there are a lot of ways she can be like her mother. Maybe Angelique had one adventure where she acted as a double agent. Maybe the adventure didn't go well? Maybe either she was injured or frightened badly enough that she decided she was never going to use those abilities again? I don't know. But it would create more depth for her and perhaps also dial her down a bit at the same time. It would show her as having a little more vulnerability. Just a thought.

Yes, please change the surname away from Delacour.



Khaat Lupin

Gryffindor Graduate





Number of posts

: 19044


Special Abilities :

Energy Worker, Medium, Heightened Sensitivity


Occupation

: Director of St. Mungos, Owner of Sparks Bistro



Miriam won't try to give Kace back memory, but I'll pm you everything about that on pm

I added in history she doesn't work as double agent anymore. Because is the past I think there is no need to wrote much about that because she wont do anything about that anymore, she is 45 years old, like I wrote she thinks she has a great life, and her only goal is to see her daughter happy again, so I wouldn't do anything about that anymore.
I don't need her to be powerful or something like that, cause she is for me just ordinary family's women now. I will find her one muggle's job to distant her even more from magic
and surname changed

I think everything is fine now
I have to send app for Echo, he is finished about month ago and was waiting for Marina to finish his brother

After that, I'll om you about Miriam

Angelique Delacroix




Number of posts

: 13



ok. i can live with angelique now. thanks for making those edits.

accepted and sorted to grads

Khaat Lupin

Gryffindor Graduate





Number of posts

: 19044


Special Abilities :

Energy Worker, Medium, Heightened Sensitivity


Occupation

: Director of St. Mungos, Owner of Sparks Bistro



um, wait. you still need to put the definitions for her personality traits in quotes and give credit to the website where you found that information you copied into the app. that's really important. please do that or delete the definitions.

Khaat Lupin

Gryffindor Graduate





Number of posts

: 19044


Special Abilities :

Energy Worker, Medium, Heightened Sensitivity


Occupation

: Director of St. Mungos, Owner of Sparks Bistro



Page 1 of 2 • 1, 2
---
Permissions in this forum:
You
cannot
reply to topics in this forum