on Sat Jul 01, 2017 5:30 am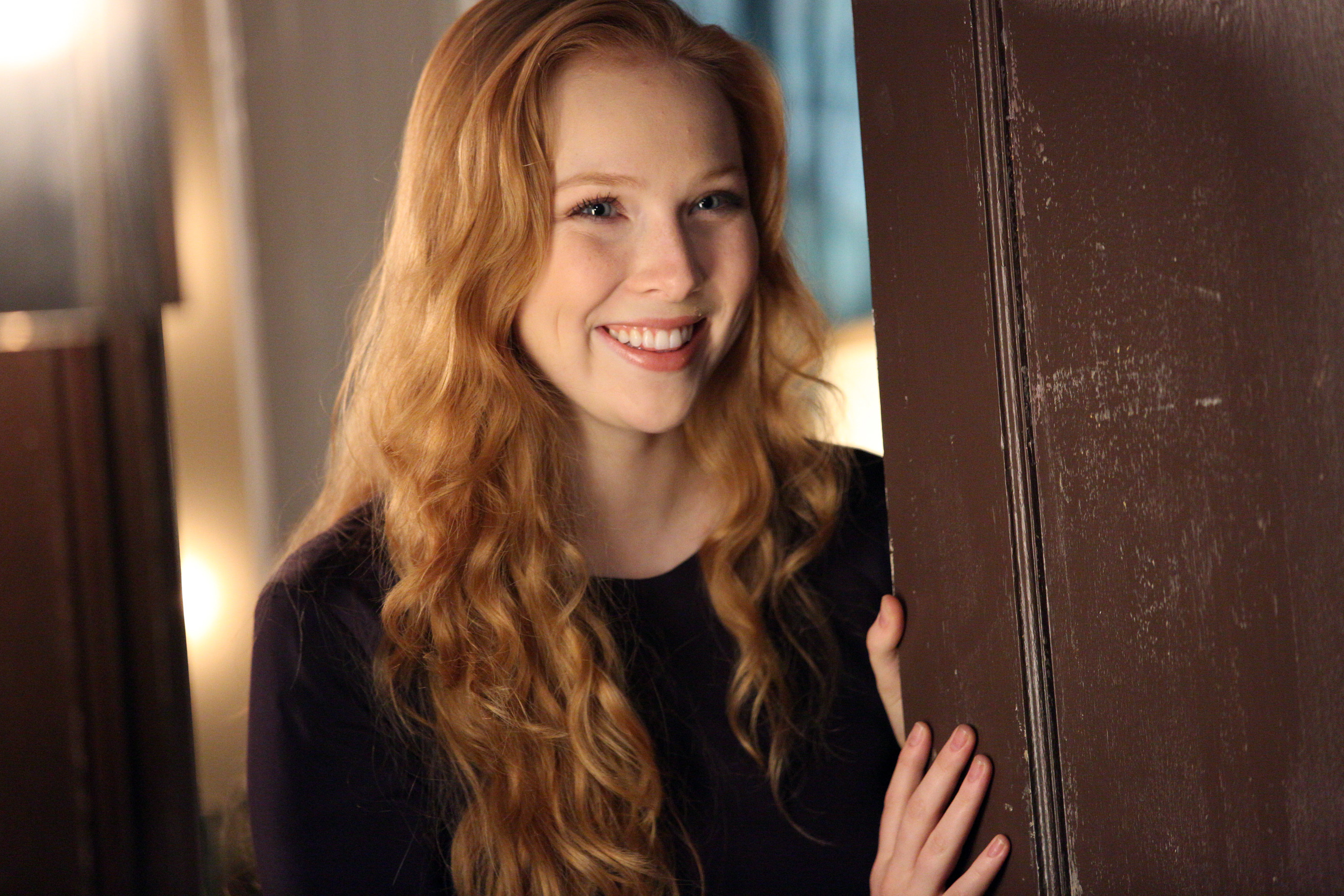 MAIN

They were the last people you'd expect to be involved in anything strange or mysterious, because they just didn't hold with such nonsense

   

   Character's Legal Name: Eleanor Margaret Macmillan.
Her father calls her Peggy, and her best friends have a habit of taking up the "Ellie" version, as far as nicknames go. Otherwise, she quite likes her name despite the old-fashioned nature of it.

   Age: 15 ; b.2015

   Hogwarts House: Gryffindor

   Blood Type:  Half-blood

   Species: Human

   Face claim: Molly C. Quinn
   
---
APPEARANCE

...Aunt Petunia often said that Dudley looked like a baby angel - Harry often said that Dudley looked like a pig in a wig

   

OK, so technically her hair is supposed to be blonde. But Eleanor likes the distinction and difference from her siblings. So, redhead it is! She knows she can't compare to her older sister, Amelia, and then they have two even older siblings beyond that. They, predictably, all look quite similar. So she makes any distinctions she can. Her hazel eyes change dependent upon the lighting and what she's wearing, which - surprisingly, she's learned - is just pure science. If she had dark eyes like her mother, it would mean her irises were pigmented. But light eyes just aren't. So when light reflects out, the strongest strand of color wins out - whether that's blue or green or grey. And, frankly, that's one of the very few facts she can seem to keep in her head.

She tends to dress quite carefully, and as feminine as she can. While Eleanor doesn't consider herself beautiful, 'cute' is a word she's learned to be okay with. Or 'pretty.' Honestly, she's not that picky. She enjoys the idea that she can be charming - and that a pout would probably do the trick, especially on her father, whom she's closest to. That said, she's most expressive through the lower half of her face - a tight jaw, a twisted mouth, or a huge, brilliant smile. All could be complete giveaways.
   
---
PERSONALITY

......If only the hat had mentioned a house for people who felt a bit queasy, that would have been the one for him

   

 Here's the thing. Eleanor isn't brave in the Let's-go-on-all-the-adventures-ever sort of way. She's easily worried, that's true. And, okay, she doesn't run headfirst into battles. She's outgoing, though. And very kind. Hufflepuff trait though that might be, she loves the fact that she's been sorted amongst the brave and protective. She figures it comes from that story her older brother told her while he was home from Hogwarts one summer. Eleanor had stayed home, of course, as she was too young, along with Amelia and the eldest daughter, a squib.

As it turns out, their mother's entire family was murdered by Voldemort back when she was at school, and the kids had never learned the truth. Amelia seemed to know that they were protecting their children, but Eleanor worried that they wanted to tell but had changed their mind after one of their children was born without magical abilities. She'd always been ready to fight people who judged her sister, but that news only made her more concerned. It made sense, of course, that her sister Amelia decided she wanted to lead the PA while she was at school. They both wanted to be prepared, though Amelia had always been the quiet one growing up.

As things started to pick up again - with the werewolf attacks and magical creatures bans and everything happening against the Order (and, in truth, even against the Death Eaters) - Eleanor only became more and more concerned for her family. If the Bones lot had upset Voldemort himself (and she'd obviously never learned the real reason), who knew what the current Death Eaters thought about their father marrying Susan, of all people? She has nothing solid to ground it on, but if fear ever gets the better of her, that's probably the key behind it all.

So, yeah. She's kind and outgoing and fun. And she's terrible at remembering things, or at doing well in classes. But that's because she's always paying attention to everything except her classwork. She's a bit of an idiot, most of the time, and is completely in over her head as far as her crush is concerned. But if something sets her off, she goes into full mama bear mode.
 
---
HISTORY

..................Hey! My eyes aren't 'glistening with the ghosts of my past'!

   

   Early Years:
As the youngest of the Macmillan children, one might think Eleanor would be considered the 'baby' of the family, even through the later years. After all, she was five years younger than her sister Amelia, and thus even farther from her next eldest sister and their brother. But Robert (name of course subject to change) went off and Melanie (name subject to change, though based off of an old family name) ended up without magical abilities. So, of course, she needed to learn how to do things the Muggle way. Although Ernie was surprisingly (or not, frankly) friends with many a Muggleborn, and a fair few Muggles as well - and Susan of course came from a half-blood family - there was a lot that they didn't know. They had to focus on figuring things out for her now that she was going to public schooling and was getting closer and closer to living on her own.

Eleanor didn't really mind having extra time to play with Amelia and with their family friends. She just learned to be loud enough that people noticed her. Especially her dad. She would get really jealous when he spent all his time with Melanie, but during the school years - particularly after Amelia went to Hogwarts as well - it was her and her dad most of the day. He'd defied family expectations by choosing to stay home while Susan worked, and Eleanor couldn't have been more pleased with him. Susan was great as well, of course, and had bonded easily with her children too. But "Peggy" and her father were the best of friends. Needless to say, she was half-reluctant to leave and half-pumped to get to school where she could hang out with those family friends and she could finally start to learn - and practice - magic. Especially after her sixth summer, and what Robert had told them all before Amelia went off with him to school.

   Hogwarts Years:
Eleanor is definitely a girly-girl, except when it comes to Quidditch. Her dad had always liked watching it, and she found that rooting her her (unexpected) house team was absolutely outrageous amounts of fun. She took her her housemates easily, especially the older students. She was always treated like their little sister rather than their close friend. But she was used to that, and couldn't complain when they were the best she had. Optimist or no, she loved having people outside of her family and their acquaintances to talk to.

It didn't help, though, that her siblings were all a bit strange. Robert had dug into their parents' pasts - maybe because of the whole war-hero label that so many of their friends and family had. And then he'd sort of.. distanced himself. It was sudden and unexplained, and despite their rather large age gap, she missed him. Then Amelia became progressively more... outlandish. Dramatic. Maybe even ill. Eleanor never understood it, but some part of her presumed it had something to do with what happened to Melanie, too. Something to do with why she was a squib. So where would that leave Eleanor? Sick? Paranoid? Riddled with whatever fear or anxiety or something like Amelia? She didn't see the problems in her parents, but maybe it was something like that whole... What was it? Green itch.. thing?

Her one dream, ironically enough, is to find someone she can tell about her mother's family and her crazy siblings. About the fact that she might be wrong somehow, too. Some of them probably know about her grandparents and the Bones side of the family, given Robert found out during his time at school. But she wants someone to tell her that she's not crazy. Or, maybe, that she really is, so she can learn to accept what happened to them. So she can figure out what might happen to her, as well, perhaps. Either way, she hasn't found a 'best' enough friend yet. Not one she trusts to stick around afterwards.

As it were, she's really worried about the exams that will come up now that she's going into her fifth year. Those OWLs are going to weigh over her more and more as they get closer - she's sure of that. Because Eleanor is hardly bright enough to pass them with flying colors. Not even close. She does study. She does care. But she can't keep things in her head, especially when she's trying to find her way into the PA despite having been too young when she tried last. After all, Amelia had been there through Eleanor's second year, and seemed to have blocked her sister's path to protect her. But she's been gone for a while and there are new leaders, now. But, still. Schoolwork is the hardest part. She can't think once she sits down at an exam desk and is told to throw down everything she can remember. It's just too difficult. There are so many more important things to worry about - so many distractions, as well, in an exam room. She's way better at being the plucky, albeit probably unhelpful, sidekick to whomever can put up with her at the moment.

This coming year, she's finally going out for the house Quidditch team. Merlin help them if she makes it. She's also going to check up on Melanie and her college courses - if she can get letters to her. Maybe she'll send owls to her dad, to forward to her. Who knows? But she's got so much on her mind, along with the PA and the guy she likes who hardly notices her, .... there's just no way she'll pass those exams without some serious help.

   After Hogwarts: N/A
   
---
Out of Character

I'm Harry's half-sister, Dumbledore's daughter, Voldemort's niece, Sirius' cousin, Snape's daughter and Lupin's great grandmother...

   

   What should we call you: Addie! (exclamation point included, if desired)

   RP Experience: ?

   How you found us: lawl

   Main Character (we'll PM you on this account): Apollooooooo.
   
---
on Sat Jul 01, 2017 5:41 am
Is the stuff about Amelia taken from anywhere, or is it related to a plot? It's just that a scenario with Amelia is what triggered Shylock's eating disorder, so I'd like to sort out if this is Eleanor's perception of her or a more objective account




on Sat Jul 01, 2017 5:50 am
All I know about the previous Amelia is that she was leading the PA. But if that's not true I can take it out. It's fair to say, though, that Eleanor reads too far into things and misjudges people. It could've happened with her sister, too, since they were so far apart and in different houses. I'm fine with adding stuff in for future folks who may want to make Amelia, though. So it's on the record, so to speak.
on Sat Jul 01, 2017 6:09 am
I don't suppose it matters, but the main thing about her was that she had recurring hallucinations and was very melodramatic. She came across more as unhinged than as a role model.
here's an example


on Sat Jul 01, 2017 6:12 am
Ooh, gotcha. Let me try adding some stuff in, then. I'll message you in the ACP when I fix it

on Sat Jul 01, 2017 6:17 am
on Sat Jul 01, 2017 6:56 am
Oh that's nice. Accepted.

Permissions in this forum:
You
cannot
reply to topics in this forum