on Sun Aug 07, 2016 7:54 am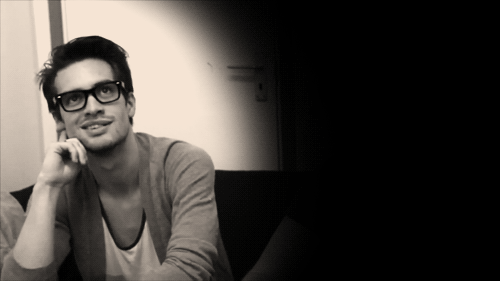 KAIDEN AUSTIN POLIAKOF
______________________________________________________________________________________
------------------------------------------------------------
INTRODUCTION
------------------------------------------------------------
NICKNAMES/ALIAS:
Kai
AGE:
Nineteen
*Going onto twenty
ALLEGIANCE:
Neutral
HOGWARTS HOUSE:
Ex-Slytherin
WAND:
11 3/4, blackwood, phoenix feather core, slightly flexible
PLAY BY:
Brendon Urie
------------------------------------------------------------
APPEARANCE
------------------------------------------------------------
GENERAL APPEARANCE:
Kaiden, being the elder of twins  born into the Poliakoff family, was always taught to dress properly for any and all occasions. He was never really allowed to find his own style when it came to clothing as his parents thought that he might end up wearing clothes that would not be appropriate enough for what they wanted Kaiden to seem like.
He was to be clean, crisp and proper at all times and therefore was always in button down dress shirts, black dress pants and shoes. He was to always have a tie on, and his robes would always be worn when he was going to evens with his parents. His hair was to never grow beyond  certain length and his hair was to always be clean and styled properly.
Until he became of age, that is. Once he hit the age where he was actually allowed to make his own decisions, he began dressing differently and he let his hair grow out. His sense of style is still similar to what he wore growing up but he has b\made a few adjustments so that he'd be happy with how he looks and so his parents won't have too many complains about him.
------------------------------------------------------------
PERSONALITY
------------------------------------------------------------
TRAITS:
001. Cunning
002. Cautious
003. Resourceful
004. Organized
005. Petty
006. Hot-Headed
007. Tenatious
008. Unforgiving
009. Traditional
010. Formal
011. Curious
012. Intelligent
013. Skeptical
014. Blunt
015. Perfectionist
016. Mature
017. Respectful
018. Competitive
019. Proud
020. Sarcastic
021. Playful
022. Responsible
023. Disciplined
024. Protective
025. Biased
026. Independent
027. Confident
028. Charasmatic
029. Passionate
030. Artistic
031. Vengeful
032. Idealistic
033. Bad Liar
034. Humorous
035. Athletic
LIKES & DISLIKES:
001. Games
002. Music
003. Composing/Writing songs
004. Dancing
005. Stunts
006. Dawn and Dusk
007. Photography
008. Sweets
009. Halloween
010. Coffee
011. Reading
001. Studying
002. Winter
003. Tea
004. The ocean
005. Large animals
006. Crowded areas
007. Being sick
008. Asking for help
009. Sleeping late
010. Losing
011. Getting carried away
GOAL:
 Now:
001. Remember who he is
002. Get himself and his life back on track
Later on:
001. Live his life without having to worry about his family
002. Finally be happy
------------------------------------------------------------
FAMILY & POSSESSIONS
------------------------------------------------------------
FATHER:
Sebastian Finley Poliakoff | b. 1977| Durmstrang Institute Graduate
MOTHER:
Adrianna Nicole Poliakoff [nee Winters] | b. 1978 | Ravenclaw Graduate
SIBLING/S:
Oliver Joseph Poliakoff | Ravenclaw Graduate | Twin | Nineteen
OTHER:
Adrienne Marie Reynolds | Nineteen | Ravenclaw Graduate
SPECIES/BLOODTYPE:
Human; Pureblood
SOCIAL STATUS:
Wealthy
------------------------------------------------------------
CHARACTER HISTORY
------------------------------------------------------------
EARLY YEARS:
Kaiden was born to Sebastian and Adrianna Poliakoff on a cool autumn night, as the first of two children they had been expecting. Minutes after he was born, his brother - his twin, Oliver Poliakoff was born as well. Though Kaiden had been the first to be born he was the smaller of the two, and the loudest.
Growing up the boys were spoiled, however the ways they were spoiled were different in many ways. Kaiden never considered himself to be spoiled, in fact he thought it was the complete opposite for himself. Being the first born of the children, Kaiden was to be the heir of the Poliakoff family and therefore he was to be taught how to act in public at events his family was to attend and he was to take many classes on proper etiquette and  manners along with dancing classes and many others that would prepare him for his future as heir, according to his father.
Basically, he was not allowed to be a normal boy like his brother had been allowed to be.
As they got older, Kaiden and Oliver became distant from each other as Kaiden hardly ever had free time to spend with his brother. He did not want to be around his brother too much, either. Kaiden envied Oliver. He got to run around and be free to do whatever he wanted to do but he could never do that. It was always class after class, and meeting after meeting that he had to attend with his father so that he could learn more on what he would eventually have to take over for his father.
Everything always fell on him because he was the older son. But it was only by a few minutes, why did it have to make such a difference? Kaiden didn't understand, he didn't want to understand, he just wanted to be normal.
But that would never happen, would it?
HOGWARTS YEARS:
His seven years at Hogwarts were never an experience that Kaiden was particularly fond of. School had never been his forte. The studying, tests and classes, Kaiden never liked any of it. Since his first year he'd constantly wonder what it would be like to be graduated and finally not have to come back to the castle that had quickly become so boring to him. He couldn't wait to be like the adults that were out in the world, not stuck within the walls of the castle, being forced to do all the things he hated to do.
Although for school being something he hated, Kaiden was very intelligent and received very good grades. Of course he kept his grades up because he did not want to anger his father in any way when it came to school. His father had already told him what he expected of him at that point and being a top student with good grades was one of the many things he'd been told about. After all, who wants an heir who's stupid, right? Kaiden understood all of that, he knew his father didn't want to be embarrassed but he hated how everything was pushed onto him. There
was
another Poliakoff child, after all. Oliver was there, he was a person too, but because he was born just a few minutes later, he didn't have to worry about all the things that their father had Kaiden do.
It wasn't fair, they were the same age, looked almost identical and carried the same surname.. So why did everything fall on him? Oliver got to have fun, he got to do almost everything he ever wanted to do while Kaiden was always in a room being told this and that. He was always having lessons that he didn't want to have while Oliver was out and about.
By the end of their seventh year, Kaiden had finally gotten enough of his father and being the perfect Pureblood heir he had always wanted. But he couldn't figure out what to do to get himself out of the entire mess. Then the marriage law was put into place and Kaiden was paired with a girl named Adrienne who, of course, was not Pureblooded and while he was excited for that he did not like the idea of being forced to get married or risk being sent to Azkaban.
It couldn't be all bad though.. Right?
ADULTHOOD:
Shortly after getting married and graduating from Hogwarts, Kaiden had been sent on a business trip by his father. Sebastian was supposed to have a meeting with a friend of his who was also a partner in some new project he had been working on that he had wanting Kaiden to start getting involved in. His method for getting Kaiden involved was most definitely not the best one, but it worked to get the reluctant nineteen year old to agree to going to meet the man in his father's place.
Kaiden only agreed because he knew that he would eventually be nagged into it and he didn't want to drag it out longer than he had to. Mostly, he just did not want to listen to his father tell him over and over again that he would eventually have to get into the project. His father wouldn't tell him what this meeting was about either, he was just told that everything would be explained to him when he got there He wasn't sure if that was supposed to be a way to protect him or a way to protect his father in case anything happened before that meeting occured. All the ninteen year old knew was that he was going overseas to a different country for two weeks, at least that was what he had been told. Kaiden was only worried about one thing, and that was leaving Adrienne alone with his parents who did not exactly like her, since she was not a Pureblood like them. They put up with the girl because Kaiden was always around, but he was worried that something would go wrong in his absence. Kaiden tried to convince his father to let him take Adrienne with him but his father would hear nothing of it.
When the day of his departure arrived, things did not go anything like Kaiden had been expecting them to. He had an accident on his way to meet the man his father had wanted him to meet, the small boat he had been on was caught in a bad storm and veered far off course which resulted in him not making it to said meeting and even worse resulted in Kaiden losing his memory. He washed up on the shore and was found a young woman and her small son, who took him to their home in a small town not far from where he'd been found. It seemed like not many people came into contact with the town unless they were searching for it specifically, and knowing nothing about himself other than his name.. Kaiden remained in the town for more of less a year before he finally decided that there had to have been a reason for him ending up where he was and he began to search or where his home could be.
There had to have been someone, somewhere who was wondering where he, why he had never come home. Unless whatever happened to him to cause his memory loss was bad enough that they'd given up looking for him…
------------------------------------------------------------
OUT OF CHARACTER
------------------------------------------------------------
ALSO KNOWN AS:
Kim/Hitame
RP EXPERIENCE:
Almost four years
HOW YOU FOUND US:
Was/Am a member
MAIN CHARACTER:
Originally Hitame, but I guess Kaiden now
*I know I'm a little rusty, it's been year or so, sorry! >.<


on Mon Aug 08, 2016 1:54 am
Hey, Hit! I'm going off of our conversation on Skype for this feedback.

So, the project that Kaiden was working on, could you explain that a bit? I'm not sure I understand what happened in those paragraphs. And the accident, what happened there? I'm guessing it wasn't a car wreck?


on Mon Aug 08, 2016 2:09 am
Okay, I tried to fix it, but yeah..


on Mon Aug 08, 2016 4:39 am
No, that's fine! Works!

You know I like him lots. You may want to glance at his signature, though

I'll go ahead and sort him.

Permissions in this forum:
You
cannot
reply to topics in this forum