on Thu Jul 28, 2016 11:08 pm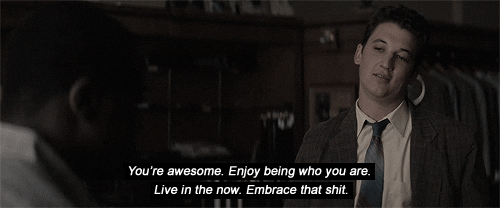 CALEB RILEY FLINT
______________________________________________________________________________________
------------------------------------------------------------
INTRODUCTION
------------------------------------------------------------
NICKNAMES/ALIAS:
 Caleb
AGE:
25. May 6, 2004.
ALLEGIANCE:
Death Eaters, obvi.
HOGWARTS HOUSE:
Former Slyterin, obvi.
WAND:
Willow, Runespoor fang, 10 and ¾ inches, bendy.
PLAY BY:
Miles Teller
------------------------------------------------------------
APPEARANCE
------------------------------------------------------------
GENERAL APPEARANCE:
Caleb is a solid six foot zero, with broad shoulders and a relatively muscular build. He's definitely a dad bod in the making, though. He has long arms that are nicely padded with lean muscle from his Quidditch days. He's usually recognized by his long nose, which is definitely his least favorite feature about himself. He's more of a smirker than a smiler, and he certainly walks with swagger. He likes to impress in a nice suit at work, but you'll also see him dawn shorts and tank in the summers. He cares about his aviator sunglasses and his hair more than he does about most people.
------------------------------------------------------------
PERSONALITY
------------------------------------------------------------
TRAITS:
+Charming. Related: smooth, a talker, flirtatious, quick on his feet, natural improviser.
+Athletic. Related: Natural Chaser, well built, gym-rat.
+Outgoing. Related: jokester, youthful, hedonistic, party-animal, uses his money for a good time.
-Self-centered. Related: selfish, vain, womanizer, my-world-not-yours.
-Untrustworthy. Related: work-smart-not-hard, gluttonous, lazy at work, power-motivated, money-motivated, business minded.
-Superior. Related: power-hungry, ambitious, blood-superiority, race-superiority.
LIKES & DISLIKES:
+How he looks in aviators
+The attention after a completed mission
+Being apart of an exclusive group
-Being belittled by a halfblood, mudblood, werewolf, vampire, etc.
-Being 'put in his place'
-The word 'no'
GOAL:
 Live that pureblood life, yo. Currently, become undersecretary to the Minister of Magic.
------------------------------------------------------------
FAMILY & POSSESSIONS
------------------------------------------------------------
FATHER:
Marcus Flint.
MOTHER:
Victoria Flint, nee Levsky.
SIBLING/S:
Camila Rachel Flint, 25. May 6, 2004.  PB: Alicia Vikander
OTHER:
N/A.
SPECIES/BLOODTYPE:
Human, pureblood.
SOCIAL STATUS:
Wealthy.
------------------------------------------------------------
CHARACTER HISTORY
------------------------------------------------------------
EARLY YEARS:
Neither twin knows it, but one of them is not Victoria's child. Victoria and Marcus didn't marry until the dust of the war had settled down, and then took even longer to decide on conceiving. Try as they might, they could not get pregnant, and it was discovered that Victoria had some sort of disease in which her eggs did not mature. They talked long and hard about it and ended up purchasing eye quality magical eggs to implant into Victoria. They did this until she was pronounced pregnant, and the healer promised that this would produce a child.
It produced two. Somehow, one of her eggs matured. It was a medical marvel, but they would be having a boy and a girl. 'Twins' that were also half siblings. The biggest horror, however, came when Victoria and Marcus had their babies tested, too curious to resist knowing which child was their own. The egg they had received was not pureblood as they had been promised, but from a halfblooded woman. Not only was one of these children not 100% their own, but the baby was not pureblooded.
Camila and Caleb never knew this, of course, and lived a relatively normal, pureblooded life. You know – huge house, every (appropriate) hobby encouraged, house elves to ensure the children never had to lift a finger. Camila was exceedingly clever, Caleb was wonderfully athletic, and both were dangerously charming. Victoria often doted upon Camila as her Pride, and Caleb as her Joy. When Camila decided to challenge her tutor into teaching her Latin atop the French that her parents required, Caleb asked to accompany his father during those special lessons to his work at the Ministry. And so, the two children made their parents proud.  
HOGWARTS YEARS:
Both siblings were sorted into Slytherin. Caleb's sorting was nearly instantaneous, while Camila admitted that she may have persuaded the Hat to place her in house green over house blue. Both made friends quickly and easily, having their own separate friends as well as friends who entertained them as a package. Their beginning years were as normal as most, as they found the classes they flourished in, found professors to look up to, and extracurricular activities to enjoy. Camila was at every one of Caleb's Quidditch games, even helping him train in the off seasons, and Caleb even managed to convince their friends to care about the wizard chess tournaments for Camila.
Caleb was rather popular, as any handsome, pureblooded boy with money was prone to be. Camila was well-liked but not nearly as popular, but it evened out, for the string of disappointed girls that Caleb left in his wake left his fate to be one in which not everyone in the castle enjoyed his charms. Nevertheless, both siblings dominated in the dueling club and were both recommended to look into being Aurors.
Caleb's grades were rather good – his sister's were excellent, of course – so the recommendation to become an Auror was a great possibility. Having come from his favorite professor, Caleb took it to heart and angled his career that way. Of course, he was a prominent member of the Dark Followers, which was probably the only activity in which he could say he actively put more effort in than his twin, who seemed bored by the whole ordeal.
His sixth year was when things changed. Camila's attitude at home became drastically different, which Caleb chalked up to his parents throwing them into the pureblood social scene. His parents were oddly relaxed in that they assured their children they need not rush into a marriage, nor would they arrange it, so long as they promised to remain a strong part of the pureblood culture and marry a pureblood to preserve their lines. Caleb thought this was more than fair, but Camila became more aloof and seemed to be punishing her parents for something. Caleb never could get out of her what had changed, but from then on, his sister was the outsider.
Despite the strangeness at home, NEWTs came and NEWTs went, and Caleb found he had enough to be an Auror. It was time to get his life started.
ADULTHOOD:
Camila moved out the day they got back from Hogwarts. Their trusts had matured and she took enough money to start her off, but assured her parents she wanted none of their money and left. Caleb enjoyed the summer at home, needing the familiarity to offset the craziness of his new job. His induction into the Death Eaters also made quick access to his father a priority, as he wanted to ensure he did it all correctly.
He finally moved into London after that summer and after Auror training, and by the time he was a full-fledged Auror, he had a super nice apartment and a few friends on which he could rely.
When he was twenty one, he decided to try his hand at investing and made a ton of money with a smart investment into Gringotts – invest money in money. With his wealth, the Auror job was completely unnecessary except to ensure money followed him into retirement. Besides, the Death Eaters liked his placement and were eager to see him rise through the ranks. His eyes are currently set on the Undersecretary position.
He's had his girlfriends, he's lost some friends, but the one constant in his sister has remained. Changed as she is, denying her money and yet still making quite a bit as a diplomat, they still make sure to go out every weekend.
------------------------------------------------------------
OUT OF CHARACTER
------------------------------------------------------------
ALSO KNOWN AS:
Jackles
RP EXPERIENCE:
Zero.
HOW YOU FOUND US:
The reptilians planted you in my head.
MAIN CHARACTER:
Jack Dyllan
on Thu Jul 28, 2016 11:29 pm
on Fri Jul 29, 2016 12:38 am
My bad, form didn't submit on canon claims. Done now!
on Fri Jul 29, 2016 7:03 am


on Fri Jul 29, 2016 2:53 pm

Permissions in this forum:
You
cannot
reply to topics in this forum